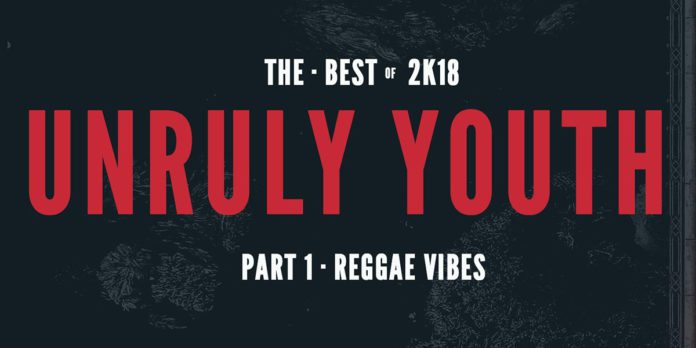 Sin duda, la primera mixtape del año tenía muchas probabilidades de ser un 'The best Of' y, efectivamente, así ha sido.

A continuación os ofrecemos la selección realizada por Unruly youth sound, el colectivo de Salamanca / Ponferrada formado por Bad Gyal Snow, Swetah y Drama.
MIXTAPE DEL MES DE ENERO DE 2019
UNRULY YOUTH – THE BEST OF 2K18
En realidad, Unruly Youth Sound ya son unos viejos conocidos en estas latitudes. Desde Salamanca y Ponferrada, llega una de las células más activas de la península. Su lucha comenzó allá por el año 2005, desde entonces, Bad Gyal Snow, Swetah y Drama han exhibido una gran militancia a través de sesiones cargadas del mejor Reggae, Dub o Dancehall, sin olvidarse de otros géneros cercanos como el Dem Bow o la Soca. Casi en su totalidad, la actividad de estos embajadores musicales ha estado centrada en clubs y programas de radio.
En esta ocasión, nos presentan una selección muy personal de lo mejor del pasado año, donde dan cabida a diferentes variantes de lo que generalmente llamamos música Reggae. Una sesión de 2 horas que reúne a artistas internacionales que van desde Luciano, Mr Vegas o Ras Demo hasta nuevos nombres como Yaksta Carvanie, Lila Ike, Koffee, Samini o King Charlz. Pero ojo, también se pueden escuchar sonidos de estas tierras, como los de Cool Up Records, Dactah Chando, Adala o Sr Wilson.
En fin, que si tenias pensado repasar lo que ha sucedido en 2018, entonces, no deberías pasar por alto este «The Best of 2K18» de Unruly Youth. Por cierto, esta mixtape nos promete una segunda partemás centrada en el Dancehall, de ahí el subtítulo de este trabajo: «Pt.1 Reggae Vibes»; que pronto podréis encontrar en las redes sociales de este interesante colectivo.