Desde Bass Culture damos la bienvenida al mes de abril con una selección cargada de Roots de ayer y hoy. Antes de nuestra agenda quincenal os presentamos dos reediciones recientes de Willie Williams y Winston Jarrett, y alguna otra joya de Force Seven, Freedie McGregor, Twinkle Brothers… Crucial selection!
En la segunda parte os ofrecemos jugosas novedades, como la que nos llega desde Brooklyn: The Far East con la brillante vocalista Maddie Ruthless. The Breadwinners vuelven a sorprendernos bajo el sello Horus Records. Y completamos con los últimos lanzamientos de Partial Records y Dubkasm, dos referentes de la escena UK actual.
Nos escuchamos el próximo 16 de abril en Bass Culture, pero antes podemos vernos en La Poveda Station el sábado 12:
Echo Chamber Roots Hi-Fi in session junto a Roberto Sánchez, Irie Souljah, Don Fe y Organic Roots Crew!!!
Descárgalo y escúchalo aquí / download & listen it here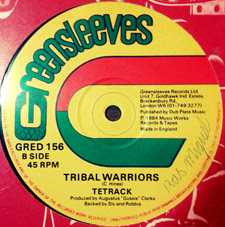 BASS CULTURE REGGAE RADIO SHOW
Willie Williams – Come Make We Rally / (Archive Recordings 12″)
Winston Jarrett & The Righteous Flames – Chucky Hark and Shark / Chuky Chapter One (Iroko 7″)
Still Cool – What a Shame / Steve Biko (Field Marshall 7″)
Ras Ibuna – Pay Them Dues / Version (Kadamawe 7")
Force Seven – Open Up Your Mind (Sound City 12″)
Tetrack – Tribal Warriors (Greensleeves 12″)
Freddie McGregor – Judgement Day / South Side Rock (Leggo Sounds 7″)
Twinkle Brothers – Don't Let Us Have to Suffer (Twinkle 7″)
Agenda Quincenal
Likkle Johnson & The Soul Agitators – Let Them Be Alone / Together Dub (KA Records 10″)
Bob Skeng – The Lion / Version (Roots Garden Showcase 12″)
The Far East – Youthman / Youthman Version (Tea Factory Sounds promo)
The Breadwinners ft. City Culture & Stally – Far As I Can See (Horus Records promo)
GT Moore – Secret Love / Secret Dub (Jah Works 12″)
Naphtali – Visionary Dream / Visionary Dubplate (Partial Records promo)
Bagga T – Workship / Dub (Roots Tribe 7″)
Solo Banton ft. Buggsy – My Music (Dubkasm Records promo)
Miércoles de 21:30 a 23:30 h
Radio Almenara, 106.7fm
Zona Norte de Madrid
http://www.radioalmenara.net
http://www.bassculture.wordpress.com
http://basscultureplayers.bandcamp.com
También puedes escucharnos en:
Ràdio Bala radiobalamanresa.wordpress.com
Radio Rasta http://www.radiorasta.info
Somreggae Fm https://www.facebook.com/Somreggaefm
Talawa Network http://www.Talawa.fr
Descárgalo y escúchalo aquí / download & listen it here.
---