Penúltimo Bass Culture de 2014 y mucho muchísimo Roots del siglo XX en una primera parte más extendida de lo habitual, con Ernie Ranglin y The Mountaineers, Bim Sherman, Linval, Shaka y la reedición del LP de Sceptre por Reggae Archive Records. Un discazo.
Volvemos también con nuestra sección de LPs de dub antológicos, que nos lleva hoy a Canadá con Exodus Dub de Chalawa. Imprescindible.
Para finalizar, Roots & Dubwise del siglo XXI con lo nuevo de STA, un prerelease de la primera referencia de Lana Sounds, Jahman Records, Crudo Bilbao y Dubkasm ft. Lidj Xylon y Dub Judah. Palabras mayores.
No os perdáis nuestra próxima emisión el 17 de diciembre, porque repasaremos las mejores producciones internacionales de 2014. Y antes, Roots Rebel Dance 6, el sábado 6 de Diciembre, en el Patio Maravillas. Mucha salud a todos y todas! Vibes and strength!
Descárgalo y escúchalo https://archive.org/download/BassCulture3Diciembre/Bass%20Culture%203%20Diciembre.mp3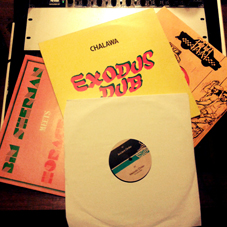 https://archive.org/download/BassCulture3Diciembre/Bass%20Culture%203%20Diciembre.mp3
– Ernest Ranglin & The Mountaineers – Earth Sound (Earth Sound 10″)
– John Tom – Natty Roots / Natty Version (Belmont 7″)
– Pablo Paul – Don't Dope (Kingston Connexion 12″)
– Bim Sherman – It Must Be a Dream / Dreaming (Original Music 12″)
– DUB LP: Chalawa – Exodus Dub (Micron Music)
– Sceptre – Ina Dif'rent Styley (Reggae Archive Records promo)
– Jah Shaka – Revelation 18 / Revelation Dub (Jah Shaka Music 12″)
– Linval Thompson – Halla Them a Halla / Jungle Mouth Dub  (Taxi Music 12″)
– Agenda Quincenal
– STA – The Seaweed Collector  / Pesado  (Control Tower promo)
– Vivian Jones / Sta'Sax- Roots Daughter / Sax Daughter (Lana Sounds promo)
– Tony Roots – Chant / Dub (Top a top 7″)
– Bob Skeng – The Lion / Version (Roots Garden Showcase 12″)
– Maurylion / Ras Mat I – Dem A Murderer / Forward Jahman (Jahman promo)
– Antxon Sagardui feat Don Camilo – Love is the answer / Original Mix dub (Crudo Bilbao promo)
– Dubkasm ft. Lidj Xylon & Dub Judah – Ancient Order / Melodic Order (Peng Sound 12″)
Descárgalo y escúchalo https://archive.org/download/BassCulture3Diciembre/Bass%20Culture%203%20Diciembre.mp3
BASS CULTURE REGGAE RADIO SHOW
Miércoles de 21:30 a 23:30 h
Radio Almenara, 106.7fm
Zona Norte de Madrid
http://www.radioalmenara.net
http;//www.bassculture.wordpress.com
http://basscultureplayers.bandcamp.com
También puedes escucharnos en:
Ràdio Bala radiobalamanresa.wordpress.com
Radio Rasta http://www.radiorasta.info
Somreggae Fm https://www.facebook.com/Somreggaefm
Talawa Network http://www.Talawa.fr