26abr(abr 26)23:0027(abr 27)06:00Rebellion The RecallerBarcelona. Sala Instinto M7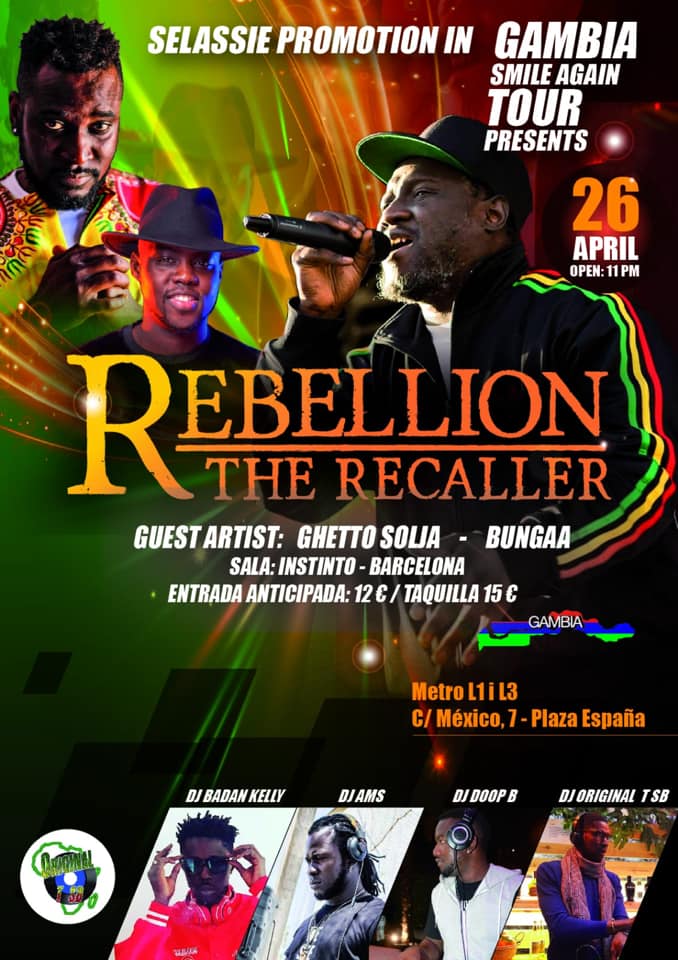 Detalles del evento

Rebellion the Recaller is the name of the exceptional reggae singer from The Gambia, Africa, who is exciting producers and crowds around the world. Rebellion's powerful voice combines astonishingly versatile melodies with the rhythms of his profound lyrics into a unique style. The music of this deeply spiritual soul is inspired by a message of understanding, peace and dignity, which he finds in his faith. The Recaller wants to reach out to others, touch their heart, and reflect with them. His fascinating music is a call for humbleness and reason amidst a world of globalized excess, bloodshed and
confusion. Rebellion descends from the Jahanka, a West-African tribe that for centuries has been seeking wisdom and truth above worldly riches. However, he is also a ghettoyouth, a child of our times and spiritual warrior in the middle of the concrete jungles from Banjul to Berlin, from London to Kingston. He dedicates his music to people of all walks of life and community all over the world. Through his dedication to music he aims to break down barrier of Race and Religion and debating suppositions for a better future for all that dwell on Earth.
Hora

26 (Viernes) 23:00 - 27 (Sábado) 06:00
Localización

Sala Instinto M7

Mexic 7, 08004 Barcelona